Bulletin 1
Middle distance competition WRE
Helsinki O-Games, 10.6.2023 Vihti, Finland
Organisers
Helsingin Suunnistajat
Event director: Pekka Väisänen (pekka.vaisanen@helsinginsuunnistajat.fi)
Event adviser: Johan Uusimäki (IOF)
Controller: Tommy Selin,  EsAk
Course setters: Atte Lahtinen (WRE), Hannu Lammi

Information
Contact person: Pauliina Lankinen (pauliina.lankinen@helsinginsuunnistajat.fi)
p. +358 50505 9194https://helsinginsuunnistajat.fi/
Venue
The event center is located in Salmi, Vihti about 30 minutes from Helsinki-Vantaa airport and 50 minutes from Helsinki city center.
Rules
The Competition Rules for IOF Foot Orienteering Events (Rules for IOF World Ranking Events, as published on the IOF website https://orienteering.sport/orienteering/competition-rules/) apply to competition.
Classes
The WRE competition classes are M21E for men and W21E for women. Estimated winning times are 35 minutes. Note! In case over 60 entries are received to a WRE class, the organiser will split the runners into two (or more) ranked WRE classes, with best athletes in the top ranked class. 50 athletes are selected based on IOF World Ranking, and 10 more will be selected as wild cards
There is a national competition for other classes at the same time from the same arena.
General map of the region and embargoed areas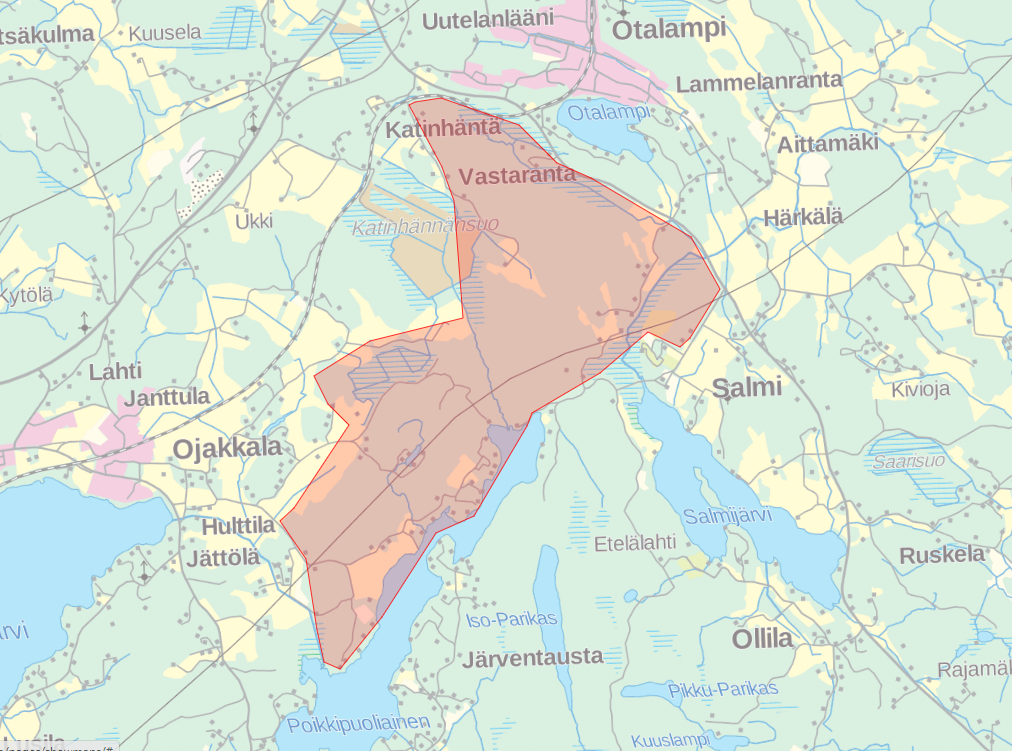 Entries
Entries are made via Finnish Orienteering Federation entry system Irma. The international participants who are not registered in Irma may do their entries via IOF Eventor.

The last entry date is Sunday 4th June 2023 at 12 pm. Late entries by Tuesday 6th of June at 12 pm for an increased fee.
Entry fees
Entry fee is 38 euros / competitor. The fee must be paid at the same time with the entry. Unless entry fee is paid, the entry is not valid. Please note that if the payment is late, the organiser will consider the entry as late entry. Late entry fee is 57 euros.

Account owner:
Helsingin Suunnistajat
Bank name: Nordea Bank AB
Bank address: Satamaradankatu 5, 00020 NORDEA
IBAN: FI05 1243 3000 1989 69
BIC: NDEAFIHH

For the payment identification, please write the surname and class of the competitor to the note in the payment order.
There is a long distance competition (non WRE) on Sunday 11th of June organised on the same terrain and same organiser. Entries to the long distance competition via Irma or by email: timo.kokko@kokkens.fi. Entry fee 22 euros, late entry 33 euros.
Map
Orienteering map at scale of 1: 10 000 and contour interval of 5 meters, 2023. Competition map will be digitally printed.
Old map Kerlampi https://drive.google.com/file/d/1H5m-WQpp9Wo0sXZLuqGxuI0-Fcv7Ku-a/view?usp=share_link
Old map Katinhäntä-Paratiisi https://drive.google.com/file/d/1mVUbj9XSneHXB0xKQS7WAvyi6uucE_Qx/view?usp=share_link
Punching system
The punching system used in the competition is Emit. The organiser will reserve Emit for those who have not given Emit number upon entry. The rent fee is 5 euros.
Event programme
The first starts for M21E and W21E are at 11.00

Training opportunities
There will be training maps available in the end of April when the snow has melted. More information available later in organisers web page (helsinginsuunnistajat.fi)
Description of the terrain
The terrain is varying with detailed runnable small hills and spruce covered slopes. Part of the terrain is under normal forest management. The altitude difference is moderate, with individual hills rising to heights of 20-50 m above their surroundings. The runnability is mostly good except some areas where fallen trees and logging residue reduce the runnability. The latest maps of the area are from 2007 (Kerlampi) and 2015 (Katinhäntä-Paratiisi).
Accommodation
Accommodation can be looked in Vihti and Helsinki area. The nearest hotel is Hotel Korpilampi
https://www.korpilampi.fi/en/
Next to competition area is Salmi camping site https://www.hel.fi/helsinki/en/culture/recreation/in-helsinki/salmi
Directions for obtaining entry permits (visa) to Finland
From the page of Ministry for Foreign Affairs of Finland you can check if you need a visa to visit Finland and what travel documents are accepted in Finland https://um.fi/visa-to-visit-finland
Climate and weather conditions
The weather in June in Finland is usually mild but cold and rainy days are also possible. There is usually no snow in June.